Silkair service to Pekanbaru was transferred to Scoot and Scoot promotion return ticket starts from
$51 which is inclusive of taxes.
Pekanbaru is never in my list to visit until my ex-colleague brought it to my attention when Peknabaru was featured on
Smartlocal
. The places which Smartlocal visited looks interesting which prompted me to search for dates over the National day weekend. Surprisingly, promotion ticket was available, hence we only have to take 1 day off for this 4 days trip. This is a gals trip and there are 6 of us including my sis, my 3 ex-colleagues and my ex-colleague's friend.
Pekanbaru is
the capital of Indonesian province of Riau and is the third largest city in Sumatra after Medan and Palembang. Currently, it is served by Scoot and Jetstar from Singapore and flight time is only 55 min which is even shorter than the flight to KL.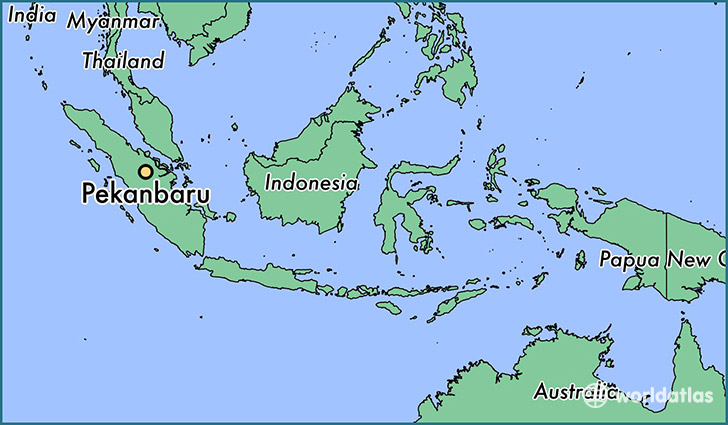 Map of Pekanbaru (Source: Worldatlas)
In Pekanbaru, we will be staying one night at Swiss-Belinn SKA Pekanbaru. The hotel is directly opposite SKA mall which is currently the largest shopping centre in Pekanbaru. The rate for a deluxe room is IDR560,000 ~ S$56 per night inclusive of breakfast.
We will be staying at Harau valley Abdi Homestay for the next 2 nights. The owner quoted me IDR700,000 ~ S$70 for a 4 bedrooms cottage which can accommodate 6 people and is inclusive of breakfast. As both the email and hp number (
+62 852 63781842) are listed
on the website, I tried to contact the owner, Ikbal using both method but Ikbal only replied my whatsapp and response is prompt. Do note that there are no air-conditioner and hair dryer provided in the cottage. As one of my colleague is used to sleeping in air-conditioner, I asked Ikbal if fan is available. He replied that it's not hot at night and they only have one fan available.
I could not find contact of Pekanbaru drivers online and have emailed Smartlocal for the driver whom they have engaged. We will be engaging driver
Hendrix (Hp: +
62 812 7656286) for this trip. Initially Hendrix quoted me IDR700,000 ~ S$70 per day within the city and IDR1,000,000 ~ S$100 t
o
Harau village. But upon asking further, the rate he quoted was for Avanza car which can only sits 4 people.
The rate for 6 seater car per day within the city is IDR1,000,000 ~ S$100 and
IDR1,500,000 ~ S$150 to
Harau village.
Itinerary for this trip:
Day 1: Reach Pekanbaru at 10.55am (GMT +7), Idrus Tintin Art Pavilion, Bukit Pelangi (Rainbow Hills), Riau Fantasi
Day 2: HS Soeman Library, Masjid Agung An Nur Riau Province, Candi Muara Takus, Bukit Wisata Kelok Indah, Harau Valley
Day 3: Harau Valley Kelok 9, Echo cliff, Sarasah Aka Barayun, Sarasah Harau, Sarasah Aia Luluih, Sarasah Bunta, Sarasah Murai and Sarasah Aia Angek
Day 4: Depart Pekanbaru @ 5.35pm (GMT +7)
Budget for this trip S$350:
- S$50 for accommodation
- S$100 for transport
- S$10 for admission
- S$100 for food
- S$90 for miscellaneous